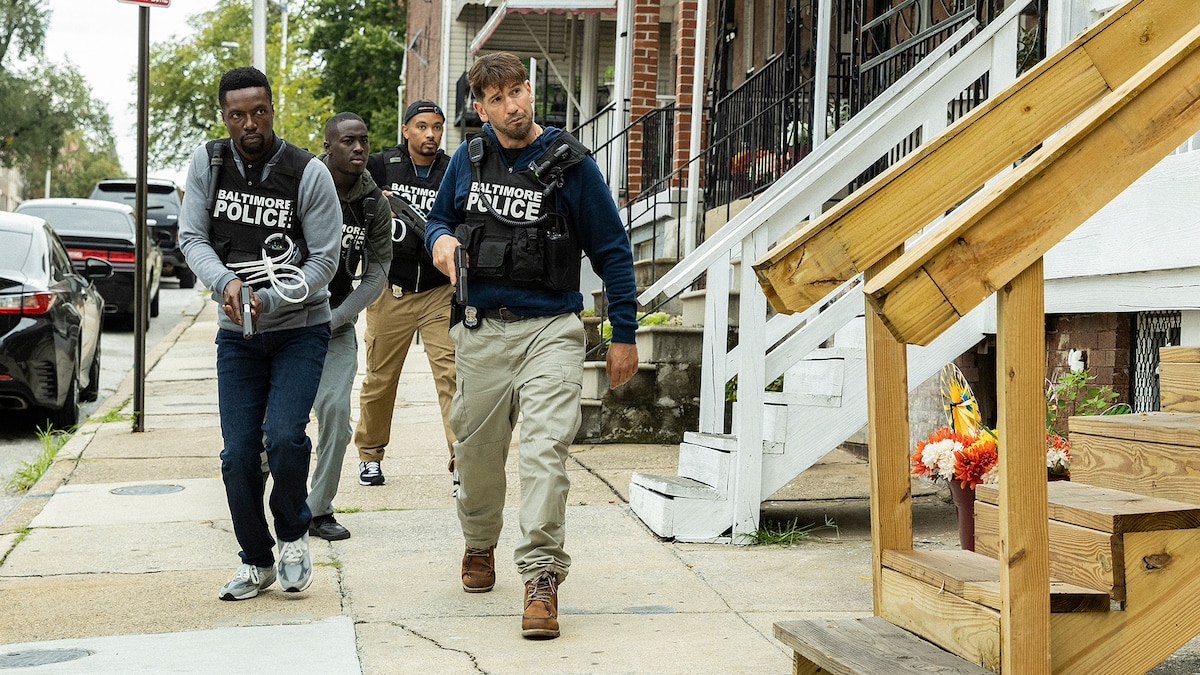 Jon Bernthal as Sgt. Wayne Jenkins of the Baltimore Police Department, perhaps the central figure in the sprawling federal corruption case that centered on the agency's Gun Trace Task Force, a plainclothes unit that went completely rogue and began hunting and robbing citizens and drug dealers alike as decades of a relentless drug war and mass incarceration in Baltimore spun wildly out of control.
Josh Charles as Daniel Hersl, a cocky, swaggering cop known amongst Baltimore residents for his casual brutality and was the subject of multiple citizen complaints. Hersl was effectively banned from the Eastern District before his move to the GTTF.
Jamie Hector as Sean M. Suiter, a Baltimore City Homicide detective who was caught up in the GTTF case and called to testify before a federal grand jury. Tragically, Suiter finds he can't outrun his past.
Darrell Britt-Gibson as Jemell Rayam, One of the most brazen offenders caught up in the GTTF probe. Rayam committed racketeering, extortion, overtime fraud, robberies and unlawful detainments; entered residences without a warrant; and was involved in three shootings that resulted in one fatality. Over the years, he was targeted in multiple investigations by the Internal Affairs Department but suffered few consequences.
Rob Brown as Maurice Ward, another plainclothesman with the Gun Trace Task Force, who participated in many of the robberies, thefts and illegal activities of the unit, but was bothered by that participation throughout, sometimes tossing away the proceeds from the crimes. When confronted by the federal investigation and charged with the rest of the unit, he was among the first to cooperate unequivocally with prosecutors.
McKinley Belcher III as Momodu "G Money" Gondo, an 11-year BPD veteran and member of the Gun Trace Task Force, implicated in robberies, overtime fraud and other corrupt acts. He was involved in protecting a heroin operation run by Antonio "Brill" Shropshire. Gondo served as an information line and protector to Shropshire, and took little effort to hide this connection.
Larry Mitchell as Scott Kilpatrick, a veteran investigator with the Baltimore County Narcotics Task Force. Kilpatrick and Detective David Mcdougall, his colleague in neighboring Harford County's Narcotics Unit, began the casework on drug overdoses that set the GTTF probe in motion.
Wunmi Mosaku as Nicole Steele, an attorney assigned to the Civil Rights Division of the Department of Justice, which was investigating policing practices in Baltimore prior to the Gun Trace Task Force criminal investigation. Focused on creating a voluntary, monitored federal consent decree aimed at reform, Steele's work centers on the systemic reasons police corruption and bad behavior are excused by Baltimore City prosecutors, judges and the police department itself.
Dagmara Domińczyk as Erika Jensen, a New York native who, compelled by the 9-11 terrorism to join the Bureau, conducted the federal investigation into the corrupt GTTF officers along with Task Force Officer John Sieracki.

Don Harvey as John Sieracki, a second-generation city cop, assigned to the public corruption task force and working out of the FBI's office in Woodlawn. Sieracki provided the federal investigation key knowledge of the BPD and access to its databases.
Delaney Williams as Kevin Davis, the Police Commissioner hired after the unrest following Freddie Gray's death, who is caught between the proverbial rock and several hard places, unable to reform the Baltimore City police department and please City Hall, community leaders, the police union, and his rank and file officers.
David Corenswet as David McDougall, a veteran investigator with the Harford County Narcotics Task Force. McDougall and Detective Scott Kilpatrick, his colleague in neighboring Baltimore County's Narcotics Unit, began the casework on drug overdoses that set the GTTF probe in motion.
Ian Duff as Ahmed Jackson, a former D.O.J. trial attorney who is tired of criminal prosecutions and transferred to the Office of Civil Rights. Jackson is newly assigned to Nicole Steele's team and is mentored by her as they investigate the systemic policing issues in Baltimore.

Lucas Van Engen as Leo Wise, a veteran federal prosecutor in the U.S. Attorney's office in Baltimore and the lead prosecutor assigned to the Gun Trace Task Force case.
Treat Williams as Brian Grabler, a retired Baltimore City Detective from an earlier era in policing, now teaching at the police academy, who recognizes much of what has gone wrong.
Gabrielle Carteris as Andrea Smith, head of the Organized Crime Drug Enforcement Task Force, who referred the first evidence of police corruption to Federal Prosecutors who then continued the probe as it led to the GTTF.
Domenick Lombardozzi as Stephen Brady, president of the Baltimore City Fraternal Order of Police.
Thaddeus Street as James Otis, a Baltimore resident and HVAC repairman, who was scraping by to support a large family until he was robbed and locked up by GTTF Detective Daniel Hersl.
Tray Chaney as Gordon Hawk, a recent addition to the Harford County Narcotics Task Force, who was working alongside David McDougall on the early drug overdose casework that set the GTTF probe in motion.

Jermaine Crawford as Jaquan Dixon, a young BPD patrolman who is still trying to do the job well, even as police department standards collapse around him.
Nathan E. Corbett as Tariq Touré, a West Baltimore author and community activist, who helps Nicole Steele better understand the issues facing Baltimoreans under BPD policies as she works to finalize the Consent Decree.

Chris Clanton as Brian Hairston, a Baltimore cop who isn't afraid to speak up when he sees police misconduct or unsound strategies.